Curated by Sara Dolfi Agostini
11 July – 20 September 2019
The good life is what we long for. Fantasies of the good life feed our habitats and identities, from personal desires to political projects and commercial culture. They inspire future visions and filter images of the past. Sara Cwynar's practice across photography, collage and film toggles between different epochs and aesthetics, revealing how the quest for the good life has been driven by evolving ideals, values, and taste, yet always grounded in conventionality and predictable comforts. Exploring the backbone of iconographies and clichés, where common constructs meet reassuring genres, Cwynar tackles the critical concept of visual truth and deciphers a reality of mundane objects and pictures merely reformulated by algorithms. Responding to the way technology challenges our vision, she creates a timeless and indelible reservoir of upfront, non-hierarchical images that resist the internet, the primary source of visual knowledge and experience in the XXI century.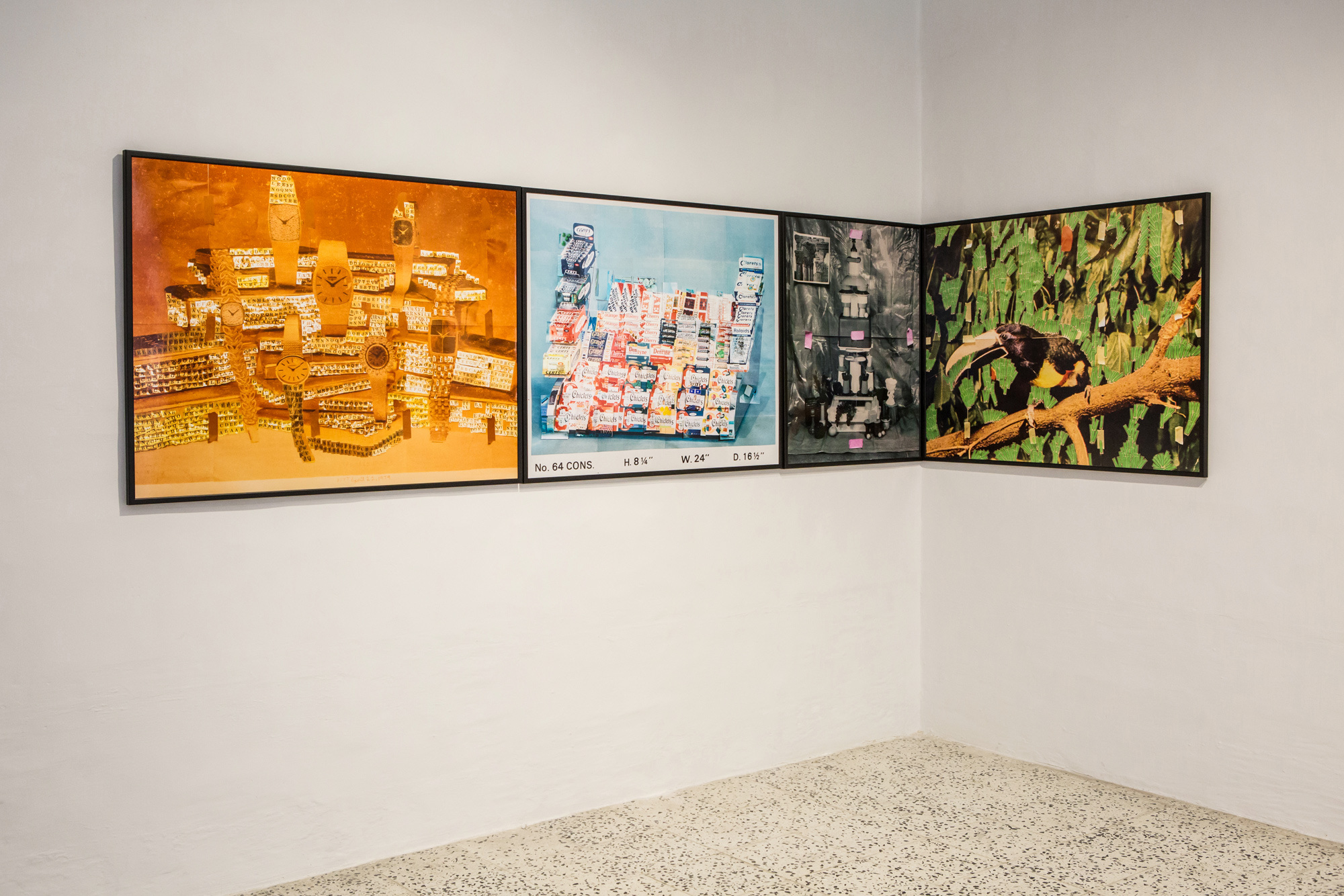 Sara Cwynar (b. 1985, Vancouver, BC) currently lives and works in Brooklyn, NY. She holds an MFA from Yale University, New Haven, CT; a Bachelor of Design from York University, Toronto, ON; and studied English Literature at the University of British Columbia, Vancouver, BC. In between her studies, Cwynar has served a three-year stint as a graphic designer at the New York Times (2012-14) and was later commissioned two covers of the New York Times Magazine, in 2015 and 2018. At the moment, she is also working on a project for the MoMA, New York, USA. Solo exhibitions include: "Image Model Muse," Minneapolis Institute of Art, Minneapolis (2018/19), traveled to Milwaukee Art Museum, Milwaukee (2019); "Tracy," Oakville Galleries, Oakville, ON, Canada (2018); "Soft Film," MMKMuseum für Moderne Kunst, Frankfurt, Germany (2017); "Everything in the Studio Destroyed," Foam Photography Museum, Amsterdam, The Netherlands (2013). Selected group exhibitions include: 33rd Bienal de São Paulo, Brazil; "Mademoiselle," Centre Régional d'Art Contemporain d'Occitane, Sète, France; "Mast Foundation for Photography Grant on Industry and Work," Mast Foundation, Bologna, Italy (all 2018); "Hard to Picture: A Tribute to Ad Reinhardt," Mudam, Luxembourg; "Subjektiv," Malmö Konsthall, Sweden; "You Are Looking at Something That Never Occurred," Zabludowicz Collection, London, UK (all 2017); "L'Image Volée," Fondazione Prada, Milan, Italy (2016); "Greater New York," MoMA PS1, Queens, NY (2015/16); "Under Construction – New Positions in American Photography," Pioneer Works, Brooklyn, NY (2015). Sara Cwynar published two books – Kitsch Encyclopedia (Blonde Art Books, 2014) and Pictures of Pictures (Printed Matter, 2014), and her works are in the permanent collections of Solomon R. Guggenheim Museum, New York; MMKMuseum für Moderne Kunst, Frankfurt; Art Gallery of Ontario, Toronto; Minneapolis Institute of Art; Dallas Museum of Art; Milwaukee Art Museum; Fondazione Prada, Milan; Kadist Art Foundation, San Francisco; Zabludowicz Collection, London; Nerman Museum of Contemporary Art, Kansas City; Foam Photography Museum, Amsterdam.
All photos are courtesy the artist and Blitz Valletta I Photos by Alexandra Pace.
Exhibition funded by The Government of Canada.